Elizabeth Harriman Fox
Summary: This is a brief biographical sketch of Elizabeth H. Fox (1859-1941), Daniel L. Fox's second wife.
Elizabeth was born 11 January 1859 in Sileby, Leicestershire, England as Elizabeth Hanford Harriman, daughter of John Harriman and Elizabeth Mills Hanford. She had five older brothers and one younger sister, all of whom were born in Sileby. In May 1882 (or 1883), seven years after her father died, Elizabeth (age 24), her mother Elizabeth (age 60) and brother William (age 28, unmarried) immigrated to the United States. Elizabeth settled near Sedalia, Missouri, probably with her brother Arthur, who had settled earlier in Green Ridge. She met Daniel Fox, whom she married 3 September 1884 in Sedalia. At some point, Elizabeth's mother and brother William moved on to Oregon.
Daniel and Elizabeth's first two children (Dorothy and Lillian) were born in Missouri, then the family moved to Fort Scott, Kansas where their other four children were born. They lived at several addresses in Fort Scott until about 1905, when they moved near Willow Springs, Missouri. It is believed they built a new home on their land about 1920. Daniel died in 1928. When Elizabeth died 3 June 1941, two of her adult children were living with her: her daughter Frances and her son Harold. Frances' husband was in the military and Harold was unmarried. Daniel and Elizabeth were buried in the Willow Springs Cemetery. Her grave marker reads: "Fox, Elizabeth 1859 – 1941."
Elizabeth sent this card to Lillian
Dec 21st, 1915
My dear Lillian and Frank,
Just a greeting and a wish "straight to your hearts from this heart of mine" on the anniversary of your Wedding Day, Christmas and Lillian's Birthday. May they all be Happy and bright. May each year bring you prosperity, Health and Love. The vows which you assumed five years ago have been easy to keep because of the love which has never grown cold and which will last to the end.
God bless you both —
Mama & Dad
Family records include the following letter from Elizabeth (age 82):
May 17, 41
Dear Cyril, Viola & Boys
Was kind of you to remember me Mothers Day with such loving greetings & letter for which I thank you & love dearly. Had a good day Mother's Day with loving greetings from all my dear family, a gay colored seersucker kimona from Dorothy & Harry, white shoes from Frances & Harold, $5 check from the Eley's, a small call bell & jasmine tea & candied (?) from Lillian & Frank. The latter is not well & under doctor's care. Listened to E. Service in a.m. In afternoon Elsie Holland, Etta Hawkins & Ivy (?) called & visited for a while.
Hope Adolph's heart gets all right soon. Too bad it is affected. Hope all the rest of you keep well.
We had a thunder storm yesterday evening that gave us 1¼ inches of steady rain. Garden doing fine & plenty of fruit so far.
Love & best wishes from Frances, Harold & self
Mama, Harold & Frances
Suppose you know I have off my casts. Will have to be in bed for another week or so have to try to move my ankles & knees to get the stiffness out of them & learn to walk again. May God bless you all.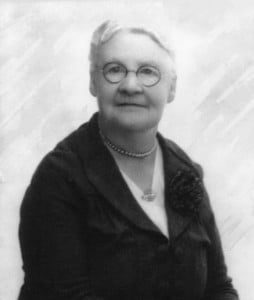 Newspaper article from The Willow Springs News, Thursday, June 5, 1941:
"Mrs. Elizabeth Fox Dies Here Tuesday
"Mrs. Elizabeth H. Fox, a resident of near Willow Springs for the past 35 years, died Tuesday.
"She was born in Lestershire, England, on January 11, 1859, and came to the United States in 1882, locating near Sedalia, where she met and married Daniel L. Fox in 1884. Mr. Fox preceded her in death. She was a member of the Episcopal church.
"She is survived by six children, Mrs. H. M. Lavelle of St. Paul, Ark., Mrs. F. E. Walts of Oakland, Calif., Mrs. R. V. Eley of Detroit, Mich., C. R. Fox of Coffeyville, Kans., and J. H. Fox and Mrs. Frances Bothwell of the home. She is also survived by two step-daughters, Mrs. J. B. Cooper of Vista, Calif., and Mrs. M. R. Hopkins of South Pasadena, Calif., ten grandchildren and six great-grandchildren.
"Funeral services were held this morning at 10 o'clock at Burns Funeral Home by Rev. E. Clarendon Hyde of West Plains. Burial was made in the City cemetery under the direction of Burns & Sons."
Notes regarding the above article:
"Lestershire" should be "Leicestershire." Located between Nottingham and Coventry in England. Sedalia is in Pettis Co, Missouri, east of Kansas City at intersection of Rt 50 and Rt 65. U.S. Census in 1900 shows Elizabeth immigrating to America in 1883
Elizabeth died 3 Jun 1941, near Willow Springs MO; buried in Willow Springs Cemetery
Research Notes
FamilySearch.com shows Elizabeth Hanford Harriman, born 11 Jan 1859, Sileby, Leicestershire, England. Parents: John Harriman, Elizabeth Mills Hanford.
Information from the Old Fort Genealogical Society:
The Twelfth Census of the United States, taken 9 June 1900 in Fort Scott KS, shows Elizabeth H. Fox the wife of Daniel Fox, born Jan 1859 in England, married 16 years, having 6 children, immigrated to the United States in 1883.
According to Randy Fox, when he showed his father CR a picture of Elizabeth, CR's whole countenance changed and he said, "She was a marvelous lady." Randy recalls CR saying she was a hard working woman and was very sweet.